WEBSITE DESIGN, UK
---
With a team of highly experienced website designers in the UK our process for designing your site is thorough and efficient.
Web design begins with a few simple sketches of possible designs for the website after our initial meeting.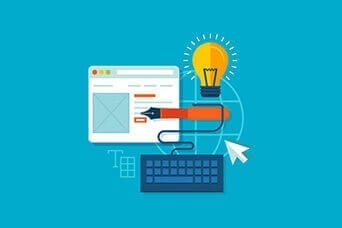 We use everything we've learned from you to determine the best design that provides cost-effective solutions for your website. These website designs are then sent to you for feedback and eventual approval. Once we have settled on a core design, we then begin the design process by coding the website.
After this, we conduct testing to check for bugs and ensure the website remains fully optimised and responsive. When you are satisfied with the final design of the website, we then being the launch process, after which you can continue to make changes through a content management system – we can even help with future design changes if needed!
SKETCH
All website designs begin with a design process, which is where we sketch ideas for possible site layout and design. Clients are sent these sketches for feedback, ensuring you get the preferred design for your site.
CODE
Coding begins once we know what design and features you want included for the site. Our coders are some of the best in the country and will have the groundwork for the website set up in no time.
TEST
Nobody wants a website with errors, so we meticulously test every component of the site to ensure there are no errors prior to launch. Anything found is immediately corrected so that the website launch is error-free.
LAUNCH
We only launch when the website is ready. You'll be given a full rundown of the design, features, and functions, as well as managing content going forward. Expect a fast, efficient and rouble free launch for your website.